For Educators: Module 3 - Support for student deaths
Support for student deaths
Chapter 1: Your own grief
Supporting your own grief process
"That weekend, after the funeral, I needed some time to be alone to make space for my own grief before I went back to school on Monday. I felt especially close to the family because I had been the contact person the whole time Martin was ill. I knew this sadness would be with me for a long time". - Teacher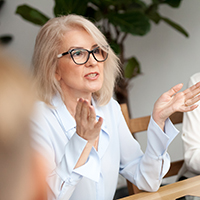 Supporting students in having a healthy grief process after the death of a peer can be a profoundly significant and meaningful experience for you; yet, witnessing and supporting your students' grief can take a toll on even the most experienced of educators. Compounding this is the fact that you may be navigating your own grief over the student's death while playing a key role in supporting the school community.

Here are some tips for supporting your own grief process.
Click the arrows to view.
Try to make space for feeling and expressing your own grief.
Consider inviting other staff to come together to remember and share stories about the student who died.
Know that it's okay if you tear up as you are supporting your students. Modeling healthy grief is a powerful way to support your students while honouring your own emotional response to the death.
Reflect on your personal experiences with grief, especially on what was helpful to you and what you learned.
Be gentle with yourself if you feel you've made a mistake in how you've navigated a situation with students or colleagues. Mistakes can be powerful learning opportunities and it's extremely rare that they can't be rectified.
Reflect on unexpected kindness or wisdom that you may encounter with your students or colleagues.
If you feel you may benefit from additional support, look into options available through employee assistance or benefit programs.
Tip
Be gentle with yourself as you bear witness to the suffering of others – and your own. Keep in mind that personal growth often emerges from life's most difficult experiences. Remember that the valuable support you provide to your students as they grieve and learn to navigate emotions that they may have not felt previously, can have a positive impact throughout their lives.