For Educators: Module 3 - Support for student deaths
Support for student deaths
Chapter 4: After a student's death from suicide
Identifying vulnerable students
"I knew that there had recently been some conflict within her friend group, and I was incredibly worried about how this was going to impact all of them". -Teacher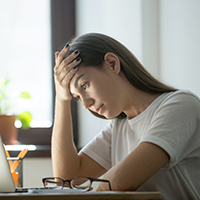 Identify vulnerable students within the school community and check in with them individually. Notify administrators and other staff, particularly school counsellors, and arrange additional support as needed.
Click on each of the arrows below to see who the vulnerable students are.

Have experienced significant loss, such as a previous death.
Had difficult interactions with the person who died or received communication foretelling the death.
Have a history of suicidal behaviour.
Identified with the person who died (even if they weren't close).
Have a history of mental health struggles, such as depression.
May feel in any way responsible for the death.