For Parents: Module 3 - Supporting a grieving child
Supporting a grieving child
Chapter 4: When death is sudden or unexpected
The challenges of a sudden death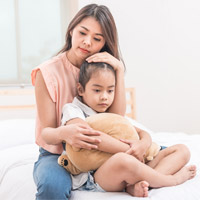 When a death is sudden and unexpected, children aren't prepared for the death. They:
Must make sense of a lot of new information while grieving and possibly in shock as well.
Lose the opportunity to say goodbye or share other special messages.
May have unresolved issues with the person who has died. For example:

They argued the last time they were together, and didn't have a chance to make-up.
May start to experience the world as a less safe place and worry that another sudden tragedy could happen at any time.
May experience trauma around the death and how it occurred.
May experience significant family stress, transitions and secondary losses such as loss of income and moving to a new home or community.
May face the involvement of the criminal justice system and the media.

Learn more in this chapter.

May have to deal with the curiosity of friends, community and media.

Learn more in this chapter.
Depending on the nature of the death, may feel stigma, shame and lack of support from community, family and school.

The 4 Cs
Whether a death is expected or unexpected, children worry about the 4 Cs.
Who will take CARE of me?
Each of these concerns needs to be addressed whether or not your children are voicing them.

L

earn more in Module 2 The 4 Cs.